Industry recognition is always appreciated, particularly in the fast moving arena of technology, and the critical sector of healthcare. We are thrilled to receive two more award nominations in 2019, from the Irish Healthcare Awards. The nominations are for Best Use of IT and Excellence in Healthcare Management. Hosted by the Irish Medical Times, the Irish Healthcare Awards celebrates its 18th year as Ireland's leading medical awards. Winners will be announced at an awards evening in Dublin in November 2019.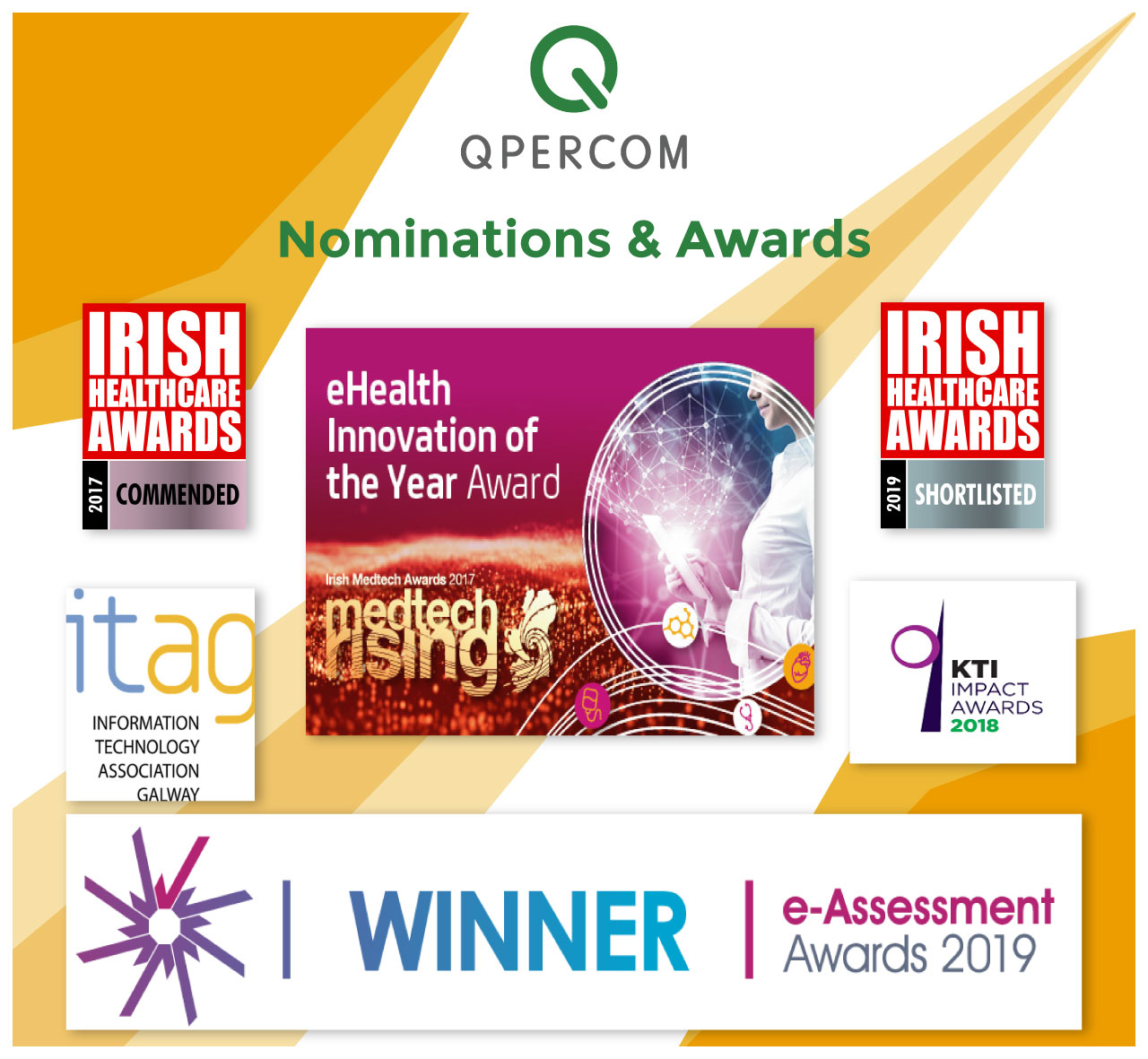 The awards recognise projects, individuals and organisations that excel in the Irish healthcare sector. The nominations are based on a research paper co-authored by 8 collaborating universities, titled "Cross-institutional OSCE Quality Assurance as part of an EU assessment strategy; are we equipped for it?" Qpercom's software solutions digitalised the Objective Structured Clinical Examination (OSCE) and Multi-Mini Interviews (MMI). These assessments are used in healthcare education, recruitment and selection to assess competence of undergraduate and postgraduate clinicians.
Manual correction and analysis of OSCEs and MMIs was extremely time consuming and expensive before Qpercom's automation. There is no room for error in clinical competence which qualifies tomorrow's clinicians to deal with life and death. In clinical practice, as in aviation, a person may only get one opportunity to make a critical decision. Today, thousands of clinical assessments and application interviews are analysed in healthcare institutions around the world using Qpercom's Advanced Assessment solutions. This double award nomination comes after winning the prestigious e-Assessment Award for Best Use of Summative Assessment for Observe in 2019.
To celebrate 10 years in business we invited our European university clients to join a mutual comparison of the quality assurance of these clinical skills exams. A consortium of nine EU universities from healthcare schools in Ireland, Norway, Sweden, Belgium, the Netherlands and the UK was established to analyse and compare data. The paper recommends to enhance educational decision making allowing educators to make reliable and fair decisions of who should pass or fail. Nothing is more critical than ensuring tomorrow's doctors and clinicians are qualified to perform their duties.
"Comparing European Assessment Strategies for clinical skills assessment is a great achievement of the current 8 collaborating universities in our mutual paper. Variance in decision making around assessment exists and this collaborative network provides a real opportunity to create collaborative EU standards in educational decision making in Medical Education" says Dr Rosemary Geoghegan, Vice Dean for Teaching, Learning and Assessment NUI, Galway, and a co-author of the paper.
View the Irish Medical Times Irish Healthcare Awards 2019 shortlist here: https://irishhealthcareawards.ie/2019/en/page/2019-shortlist
Best of luck to all nominees in the Irish Healthcare Awards 2019